Feature Monkey

 is a better Sleekplan Alternative
Feature Monkey is a customer feedback tracker, to help maintain a central place for feedback collection, user notification, roadmap planning, and team collaboration backed by affordable pricing, easy to onboard, and features that actually matters.
Sleekplan is a complicated tool, having not well defined features, all backed by a length and complicated onboarding process.
Free 14 days free trial. No credit card required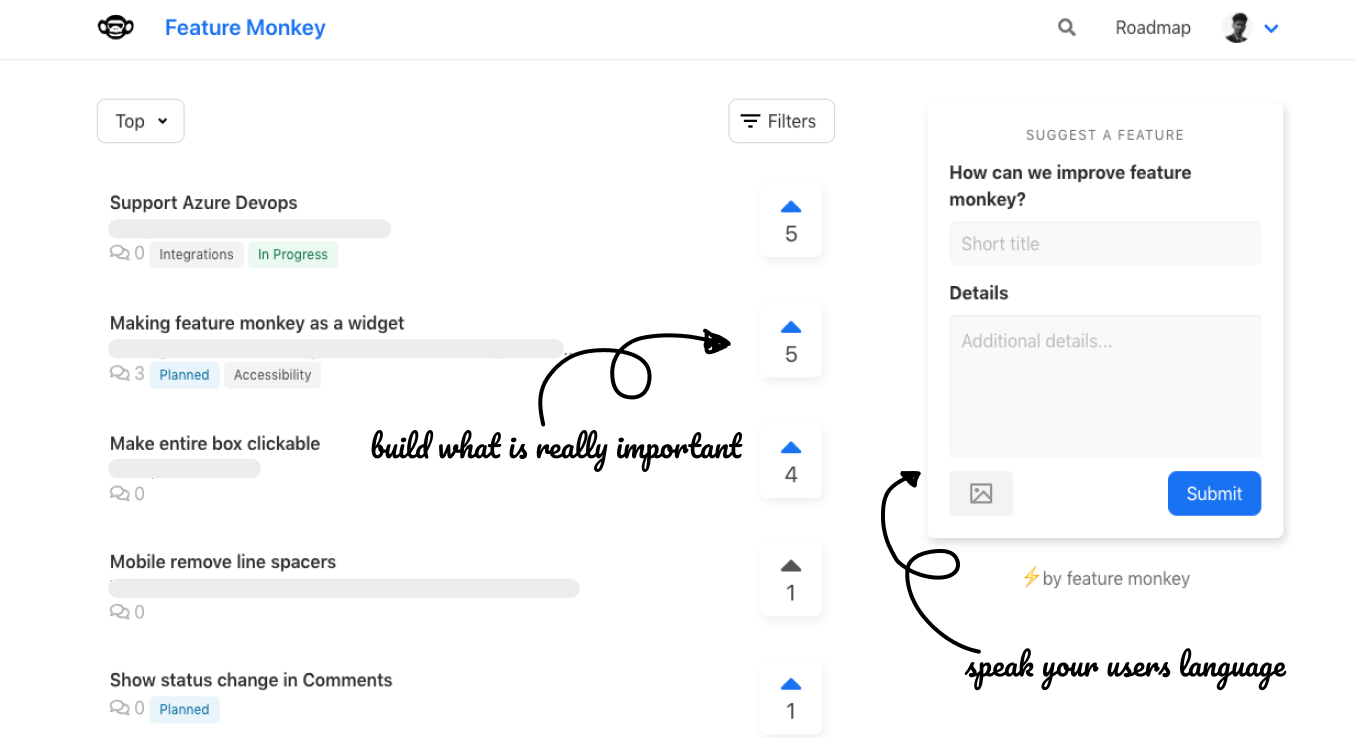 Feature Monkey
Sleekplan
Pricing
$0/month for core features and unlimited widget views
$19/month for unlimited team members and widget views
Core Features

Voting system, status updates, roadmap, tags

✔️
✔️
Custom Domain
✔️
❌
Widget
✔️
✔️
Private Board and Comments
✔️
❌
Identify users

SSO login

✔️
❌
Vote on behalf
✔️
❌
Import/Export to CSV
✔️
❌
Customize as your brand
✔️
❌
Changelog page
❌
✔️
Other top Alternatives to Sleekplan
UserVoice
UserVoice Feedback collects and prioritizes suggestions from customers as they list ideas and vote on them. This voting can occur through the SmartVote comparison testing feature. In addition to the original website-style product, iPhone and Facebook apps are available to allow developers to collect feedback for mobile apps.
Canny
Canny helps you collect and organize feature requests to better understand customer needs and prioritize your roadmap.
Aha.io
Aha! platform provides a portfolio management framework for product strategy, requirements management, release management, idea capture, and visual roadmaps.
UserEcho
UserEcho is a community forum tool that helps businesses manage customer feedback.
Yafi.io
Yafi allows you to conduct a survey of your website's users. It can be a simple survey with one question for collecting general feedback, or many different surveys with several questions on different pages, shown based on user behavior.
Assistant by GoSquared
GoSquared is a platform where businesses can communicate with their customers through analytics, CRM, live chat, and marketing automation.
Owlsights
Helps collect user feedback using feedback polls and feedback widget.