Feature Monkey

 is a better Hellonext Alternative
Feature Monkey is a customer feedback tracker, to help maintain a central place for feedback collection, user notification, roadmap planning, and team collaboration backed by affordable pricing, easy to onboard, and features that actually matters.
Hellonext is a neat tool with a good set of features but comes at an expensive price. Feature Monkey offers same set of features and even more at an affordable price.
Free 14 days free trial. No credit card required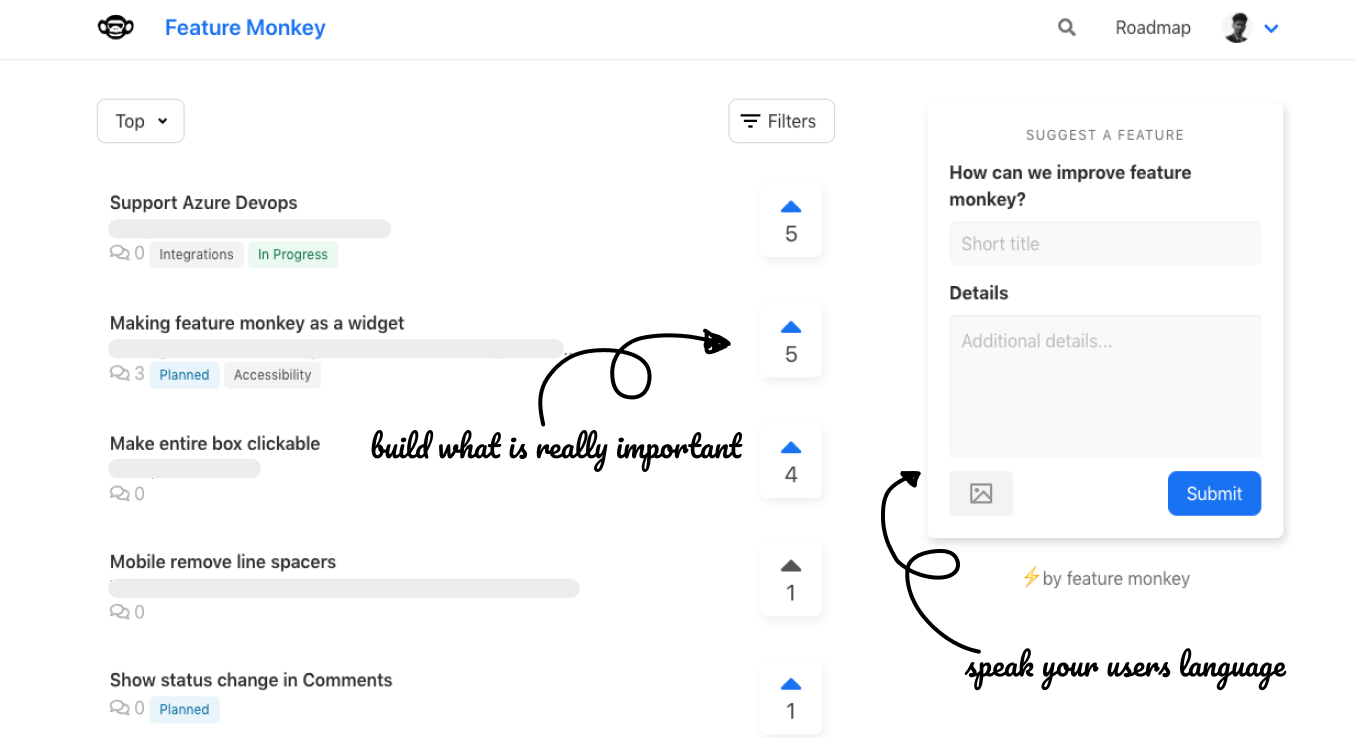 Feature Monkey
Hellonext
Pricing
$0/month for solo indie makers
starts at $50/month
Core Features

Voting system, status updates, user notification,

roadmap, user profile, tags

✔️
✔️
Custom Domain
✔️
❌
Widget
✔️
❌
Board Privacy
✔️
✔️
Internal Comments
✔️
❌
Identify users

SSO login

✔️
✔️
Assign Team mates
✔️
✔️
Dark Mode
❌
✔️
Guest Upvotes

Upvote without login

❌
✔️
Approve Content Manually
❌
✔️
Board Customization
✔️
Only for header
Team Members

Board admins

Unlimited for all plans
Only top plan offrs unlimited admins
Vote on behalf
✔️
✔️
Markdown Support
❌
✔️
Customer Support
24x7 for all users
Weekdays support starts at $50/mo while 24x7 only for top tier
Other top Alternatives to Hellonext
Canny
Canny helps you collect and organize feature requests to better understand customer needs and prioritize your roadmap.
Yafi.io
Yafi allows you to conduct a survey of your website's users. It can be a simple survey with one question for collecting general feedback, or many different surveys with several questions on different pages
Assistant by GoSquared
GoSquared is a platform where businesses can communicate with their customers through analytics, CRM, live chat, and marketing automation.
Owlsights
Helps collect user feedback using feedback polls and feedback widget.